E-mail from heaven: Is your computer on?
With the spread of same-sex marriage and hate speech laws, Catholics better gird their loins for persecution – not in fear, but hope. Trials are the rains bringing John Paul II's springtime of evangelization. Hear the voices of Tyburn's martyrs. Like the early Roman Christians they went to their deaths rejoicing. Surely whatever we face will be mild compared to their suffering. They converted many by their cheerful mildness. Imitate them in time of trouble! -- Editor
Blessed Philip Powell took the Benedictine habit and was ordained at Douai, France in 1618. He returned to the English missions in 1622 and served underground, including six months as chaplain to the Catholic soldiers in Cornwall during the civil war between the royalists and the parliamentarians. After the army was disbanded, Philip set sail for South Wales, but the ship was captured. Recognized and denounced as a Catholic priest he was tried at Westminster Hall, found guilty, and sentenced to be hanged, drawn, and quartered at Tyburn on June 30, 1646. Blessed Philip went to his death rejoicing. "This is the happiest day and the greatest joy that ever befell me, for I am brought hither for no other cause or reason than that I am a Roman Catholic priest and a monk of the Order of St Benedict."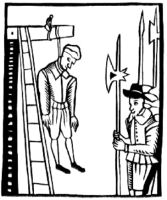 The hanging tree at Tyburn in London where 105 Catholic priests were executed.

St. Edmund Campion: The well-known English Jesuit immortalized by English novelist Evelyn Waugh and in Msgr. Hugh Benson's biography, "Come Rack, Come Rope," is an icon of the holy priest martyr. Like His Master he faced an angry mob at the place of execution. Reviled by his judges and condemned by the crowd he had difficulty making himself heard. He told those who conspired against him, "I recommend your case and mine to Almighty God, the Searcher of hearts, to the end that we may at last be friends in heaven, when all injuries shall be forgotten."

Fr. Edward Morgan faced death so joyfully a minister on the scaffold reproved him for being so light-hearted. The martyr replied, "Why should anyone be offended at my going to heaven cheerfully?"

Fr. Henry Morse, S.J. converted from Protestantism and later became a Catholic priest. At the scaffold he showed himself a true patriot by interceding for his beloved England. "I pray that my death may be some kind of atonement for the sins of this nation; and if I had as many lives as there are sands in the sea, I would most willingly lay them all down for this end."