FROM THE PRESIDENT'S KITCHEN TABLE
Dear Readers,
I have a wonderful old art print of an 18th century scene hanging near my computer. It shows a bearded old man dressed in black wearing what looks like an open academic robe. He sits resting his right elbow on a table studying a parchment and holding a quill pen against his cheek. Opposite sits a pretty young woman in a purple dress with a wide white collar. She holds up papers and her lips are parted as though she's reading. The two figures lean toward each other implying a warm bond between them. The man's brows are knitted in thought; the young woman is serene with the hint of a smile on her lips. Books are scattered helter skelter on the table and on a bench against the wall where one lies open. The picture intrigues me. Is she the old man's daughter helping him with his work? Is he her tutor listening to her recite? Are they collaborating on some project, the old and young together? Clearly this pair loves learning.
I've never really paid attention to the three paintings within the painting until recently. They hang in the background blurry and indistinct, but one is clearly the Nativity. Another appears to be the Visitation, and the third looks like a picture of Mary and Joseph with the child Jesus. What was the artist trying to say? Is the open book a bible?
The picture reminds me of Hilaire Belloc's poem On Courtesy. "On Monks I did in Storrington fall/ They took me straight into their hall/ I saw Three Pictures on a wall/ And Courtesy was in them all." What were the three pictures? The Annunciation, the Visitation, and the Consolation of Christ. Belloc describes them. "The first was of St. Gabriel/ On Wings a-flame from Heaven he fell/ And as he went upon one knee He shone with Heavenly Courtesy./ Our Lady out of Nazareth rode/ It was her month of heavy load;/ Yet was her face both great and kind,/ For courtesy was on her mind./ The third it was our little Lord,/ Whom all the Kings in arms adored;/ He was so small you could not see/ His large intent of Courtesy." While, according to Belloc, courtesy is "much less than Courage of Heart or Holiness," he reminds us, "the grace of God is in courtesy."
I think Belloc makes an important point. Courtesy isn't one of the "big" virtues, but it acts like oil to a machine – making all the gears of relationships run smoothly. It's much more than politically correct politeness. Christian courtesy doesn't shy from the hard truth. But it speaks the truth as graciously as possible in the circumstances.
It wasn't accusations and condemnation that converted Norma McGorvey, the Jane Roe of Roe v. Wade. It was the kindness and courtesy of pro-life activist Flip Benham and a little girl who accompanied her mom to the mill and always said hello to "Miss Norma" even as the adults challenged her actions. It wasn't the condemnation of the righteous Jewish men that touched the heart of the woman taken in adultery. It was the gracious kindness of Jesus saying, "Go your way, and avoid this sin."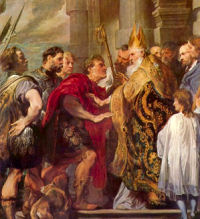 St. Ambrose bans Emperor Theodosius from the cathedral.
Make no mistake. Courtesy is not peace at any price. It isn't playing nice to avoid unpleasantness. It isn't suppressing the truth to get along. Courtesy cares enough to practice tough love. It speaks the hard truth – with a smile if possible and always with respect. Can courtesy get angry? Yes! St. Ambrose and the emperor of the east, Theodosius, were friends. But after the emperor ordered the massacre of 7,000 defeated subjects, Ambrose banned him from entering the cathedral. Imagine the saint in full Episcopal regalia meeting his friend at the door, exerting his authority, and demanding that Theodosius repent of his crime before taking his place again at the Eucharistic feast. Ambrose cared enough about Theodosius to risk his wrath. Remember David happening on his enemy King Saul asleep? His men urge him to murder his helpless foe. David responds, "I will not raise a hand against the Lord's anointed." Instead he takes Saul's spear and a jug, leaves, and calls to him from a distant hill. God placed Saul in David's hands, but he would not touch him in wrath. Instead he demonstrates both his power and his fidelity. Courtesy and tough love work together. Ask a parent.
Can our spiritual fathers take a lesson from my picture and Belloc's poem? True learning always occurs within the circle of God's truth. And learning is not for its own sake, but for the salvation of souls. May our bishops have enough courtesy and greatness of heart to embrace the truth that "whom the Lord loves, He disciplines." How many souls might be saved in the process?
   On an unrelated issue, a heartfelt thanks to all you dear ones who are praying for me and to those who sent kind letters and emails urging me to continue the print newsletter. I've decided this is not the time to stop, and I have a peace about the decision that I trust comes from the Lord. I beg for your continued prayers. You are in mine.