Bishop Loverde's Pattern of Persecuting Priests
by Mary Ann Kreitzer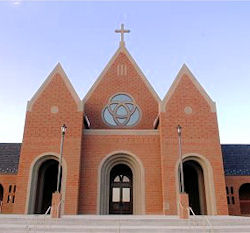 The main entrance of Holy Trinity in Gainesville, VA
Bishop Paul S. Loverde recently made his ad limina visit to Rome to meet with Pope Benedict XVI, the first since 2004 when he met with the seriously ill Pope John Paul II. The bishop presented Pope Benedict a 300 page state-of-the-diocese summary prepared by Mark Herrmann, the diocesan lawyer-chancellor. It included, according to the Arlington Herald, "everything from population statistics and evangelization efforts to child protection programs and the status of diocesan vocations." One of the things definitely excluded was a description of the pattern of persecution in this diocese against faithful priests and laity. Since Bishop Loverde's installation in Arlington in 1999, at least a dozen priests that I know of have experienced persecution in one form or another, often for minor infractions of diocesan rules or deviating from the bishop's preferences. I have written about some of these cases previously.
Bishop Loverde arrived in Arlington in 1999, assigned to fill the vacant See formerly held by Bishop John R. Keating. The difference for the priests was extreme. Bishop Keating was a fatherly man who set aside two weeks after Christmas every year to meet privately with any priest in the diocese wanting to make an appointment. He generally presented each of the priests who took advantage of that opportunity with a gift. But the gift of his time, a sign of respect, was the most important part, and the priests who went appreciated it.
Bishop Loverde, on the other hand, sees his priests at regular priests' meetings, confirmations, other necessary functions, and fundraisers. He operates more like the CEO of a corporation whose staff deal with underlings than as the spiritual father of his priest/sons. I recall reading a bulletin notice by one pastoral administrator who was loaned to another diocese. He wrote that his meeting with Bishop Loverde before he left was the very first private meeting he ever had in the four years since the bishop's arrival. That appears typical. A summons to the chancery is unlikely to be a friendly social call.
The bishops' disrespect for his priests is clear in his failure to consult them on serious matters. The Good Touch/Bad Touch debacle of 2004 (hereafter referred to as "Bad Touch") is a case in point. The bishop planned to impose the Bad Touch program on the diocese before anyone was the wiser. The priests didn't hear a word about it until it was a fait accompli. The facilitators were trained and the diocese had received permission from the Bad touch publisher to put a Catholic spin on the secular materials which were deplorable. (Keep in mind that the financial benefit to the diocese for the "Catholic version" would likely have been considerable.)
The controversy began when the bishop announced the impending implementation of Bad Touch at a priests' meeting. Horrified, several priests alerted concerned laymen including myself. Unfortunately for the bishop, an informed laity rose up in arms and met with diocesan representatives at a "peasants with pitchforks" meeting in Manassas. Chancery officials who tried to manipulate results were outflanked and the program was later deep-sixed. During the course of the battle, both the bishop and his representatives lied. Is it any wonder many faithful Catholics in Arlington do not trust the bishop?
Don't misunderstand. I love the Diocese of Arlington and the bishop has done some good things that I acknowledge with gratitude. He founded new parishes and schools, brought in both a contemplative and teaching order of Dominican nuns, and is a first-class fundraiser. Did I say the bishop is a first-class fundraiser? Sadly, in my opinion, that is his primary concern even though, a few years ago, he allowed his incompetent chancery financial staff to sit on a generous multi-million stock donation until it lost over half its value before selling.
One priest found out just how seriously the bishop takes money matters when he deviated from the professional fundraiser's agenda during the Rooted in Faith Campaign of 2004. Fr. Michael Duesterhaus was removed as administrator of St. William of York, demoted to parochial vicar, and reassigned even though he raised more than his parish's goal. He simply asked his parishioners to support the campaign. One can only suppose that the bishop thought Fr. Duesterhaus made him look bad for paying a fundraiser millions to accomplish what Father did with an impassioned plea. Instead of going to another parish as an assistant, the former army chaplain returned to military service. He's stationed in Africa today. We wish him well.
I name priests with trepidation because the bishop has a history of retaliation, but many of these stories are public and the past is prologue to the future as the Bard said. Laymen have felt the bishop's mailed fist as well. Chris Manion, who spearheaded the Bad Touch rebellion, was about to be installed as a Knight of Malta when, a day before the ceremony, the bishop apparently nixed the appointment. (The Knights require the bishop's approval.) A few years later Manion finally entered the order, but no one doubted that the bishop engaged in payback at the time.
The problems for the priests began shortly after Bishop Loverde's arrival. Within a year Fr. James Gould was removed as Director of Vocations. Fr. Gould had a track record so successful it has yet to be surpassed in the diocese and few other places in the country even came close. The word in the diocese at the time, which was privately confirmed to me by a chancery source, was that Bishop Loverde wanted a seminary candidate with a homosexual background and Fr. Gould refused. In fact, if forced to take him, Fr. Gould wanted a letter in the file affirming his opposition. The candidate was not accepted, but Fr. Gould was history. In 2004 the bishop barred him from appearing on EWTN as a commentator during the bishops' meeting, a role he had performed for several years. Raymond Arroyo, World Over anchor, was miffed enough to announce that Fr. Gould's bishop would not permit him to appear. Fr. Gould later was founding pastor of St. Raymond of Penafort. Today he leads a country parish in Warrenton far from the chancery.
One scandal received national attention: the case of Fr. James Verrecchia at All Saints in Manassas and his adulterous amour with parishioner Nancy Lambert. Fr. James Haley was a parochial vicar at the parish and his attempt to help Jim Lambert save his family precipitated the most extreme persecution to date against a priest. Verrecchia was the diocesan golden boy, the bishop's Master of Ceremonies, and a man on the way up. When Fr. Haley protested to the bishop, Verrecchia wasn't removed, Haley was. Jim Lambert, who begged the diocese to move Fr. Verrecchia, was ignored while the affair went on unimpeded.
Jim Verrecchia wasn't the only problem for Fr. Haley. He was placed with one homosexual pastor after another from the day he was ordained. Some were flirting with gay pornography; a few had active lovers visiting the rectories. After several trips to see the bishop about these situations, visits which were unwelcome and fruitless, Fr. Haley heard the bishop speak these fateful words, "You have no idea what I can do to you." Then Bishop Loverde proceeded to do it. Fr. Haley was suspended, tried in a kangaroo court where he never faced his accuser, and has since been excommunicated and defrocked according to high level sources. His canon lawyer quit, telling Father he'd been warned he would never work again for the Church if he continued to defend him. Secrecy shrouded all the proceedings as it does to this day.
Fr. Haley received the ultimate persecution, one that seemed to embolden the bishop to go after other troublesome priests for lesser matters. Sadly, it also appears to have cowed many priests into silent acceptance of his unjust actions, even to the point of relinquishing their rights under canon law. One priest who fought back, however, was Fr. Joe Clark. In 2005 the bishop suspended him after a minor altercation with a permanent deacon over the deacon's mishandling of the Precious Blood during Mass. The deacon and his family complained and the bishop called for a meeting. Fr. Clark thought it was a private one-on-one to let him present his side of the story. Instead he arrived to face the bishop, the diocesan lawyer, and the bishop's representative for the clergy, Fr. Robert Avella. There was no discussion; Bishop Loverde summarily suspended him, a canonical violation of Fr. Clark's rights.
When I spoke about Fr. Clark's treatment with a pastor in the diocese, he made an interesting comment. "When I heard that Joe Clark had been sent to Holy Family, my first thought was, 'It's a set-up.'" He explained that the bishop normally assigns liberal priests to liberal parishes and conservative priests to conservative parishes. Holy Family had a reputation for dissent and was a complete misfit for Fr. Clark, a recipe for conflict. It was also common knowledge among the priests that the bishop did not get along with Fr. Clark. The case went to the Vatican and, after several years, a mixed decision was reached that saw Fr. Clark reinstated. But he paid a heavy price for the battle. After a hospital stay for dangerously high blood pressure and several years of unrelenting stress, he developed a medical condition preventing his return to full time priestly service. He remains in residence at a diocesan parish assisting as his health permits.
In 2007 another orthodox priest, Fr. Christopher Buckner, disappeared after a brief notice in the Arlington Catholic Herald that implied sexual impropriety with a minor. The story at the parish was that Father shook a teenager who ignored him after being told he couldn't read a poem at a funeral, a far cry from the sexual molestation cases that have filled the news. But the impression was given, certainly unjustly, that Father had committed sex abuse against a minor. The same ambiguous-type announcement accompanied Fr. Haley's suspension. No charges were ever brought against Fr. Buckner who was well-respected pastor and a teacher with Catholic Distance University. He just disappeared and has never resurfaced like some of his brothers who go off on a "leave of absence" and never return.
A recent case of persecution is particularly appalling because of the sterling service of the priest involved. Last fall, Fr. Francis Peffley resigned as pastor of Holy Trinity in Gainesville and was demoted to parochial vicar and sent to a parish in Leesburg. The party line was that Father had "burned out" and needed a rest. I didn't believe it. I've known Father Peffley since he was a young priest assigned to St. Louis in Alexandria. He has the enthusiasm and energy of a John Vianney. "Burnout" was unbelievable, so I wasn't surprised to be contacted by concerned laymen with the real story.
When Fr. Peffley arrived at Holy Trinity, there was no church, no activities, and only 300 registered families. Daily Mass was held in the chapel of the Benedictine Sisters nearby and Sunday Mass
in a rented school gym. Over ten years, Father built a parish community that now numbers 3900 families. Dozens of activities fill the calendar including about ten praesidia of the Legion of Mary, an apostolate close to his heart. Father Peffley built a beautiful church which was well on the way to being paid off five years ahead of schedule. By every indication, the bishop should have been grateful to his faithful son who could easily give lessons on how to build a parish community from scratch.
So what happened? I've seen documents that show the bishop came down hard on Fr. Peffley over some minor financial mistakes. Pastors apparently are only allowed to sign contracts for up to $20,000 without the permission of the bishop, although the Diocesan Parish Finance Council Guidelines don't include that information. Fr. Peffley signed a contract for twenty stained glass windows depicting the mysteries of the rosary at $50,000 each for the design, building, and installation. They were approved by the Diocesan Office of Construction, Management, and Facilities as part of the original plan for the Church. The windows were also included among the memorial pledges made by parishioners as part of the 2002 Rooted in Faith Campaign. Yet this became one of the issues used against Fr. Peffley by the bishop. Father signed a second contract for a commemorative book at a total cost of about $53,000 to be paid in installments, all under $20,000. The book also was approved by the parish finance council and similar books had been developed for both St. Mary's in Alexandria and Our Lady of Hope in Potomac Falls. The cost of the book was also underwritten by parishioners. Essentially, Father skipped a bureaucratic step in the process of which he was unaware.
The bishop's third issue was that Father purchased liturgical furnishings and goods from his parents' Catholic Shop, although the parish building committee got several estimates from other sources and approved the purchases. The Catholic Shop provided a deep discount that made them more than competitive. Neither Fr. Peffley nor anyone at the parish benefitted from any of these financial transactions, but, like Fr. Duesterhaus who failed to do things the bishop's way, Fr. Peffley apparently broke the letter of the law and was ordered to resign. The official story, which he was told to disseminate, (even the pulpit announcement was sent to him by Vicar of Clergy, Fr. Paul Scalia), was that he requested to step down. Instead of pursuing his rights under canon law, Fr. Peffley, a true son of St. Louis de Montfort, chose silent obedience to the bishop's unjust act. The story passed around the parish and the diocese was that poor Fr. Peffley was "burned out," a complete fabrication.
Did Fr. Peffley's actions merit such a draconian response? Hardly! He had successfully established one of the largest parishes in the diocese, built a beautiful church that was on the way to being paid off early, and managed a huge congregation that operates very much like a family. He brought numerous converts into the Church and had hundreds of parishioner-volunteers. If there were financial mistakes, which is questionable, a fatherly bishop would likely have admonished him to "be more careful in the future.
Let me make it absolutely clear that I did not speak to Fr. Peffley or communicate with him in any way. None of my data came from him, but from concerned laymen. The last time I recall seeing Fr. Peffley was four years ago when he baptized our grandson at Holy Trinity. The Church had recently been dedicated and Father showed us around. He gave me a copy of the lovely booklet on the mysteries of the rosary illustrated with drawings of the windows. He was pleased with the progress at Holy Trinity and gave all the glory to God. I fear he will not thank me for writing this. He is an obedient son of the bishop who no doubt sees his personal Calvary at the hands of his spiritual father as the will of God.
What motivated the bishop in all these priests' cases? Who can say? But it's ironic to see pastors who foster dissent carry on without a peep from the chancery while the bishop comes down hard on good and faithful priests advancing the truths of the Church. Fr. Peffley is just the latest in a long line of persecuted priests. And, frankly, it appears to me that the bishop was looking for an excuse to punish Fr. Peffley just like he apparently did with Fr. Clark. The finance issue simply became the means.
It is disturbing to see the injustice and the disparity in the way Bishop Loverde treats his priests. If one examines the cases of sexual immorality: Fr. Verrecchia, Fr. Erbacher, Fr. Hamilton, Fr. Brooks - it took public scandals before the bishop responded. In fact, the chancery engaged in an active cover-up of the Verrecchia affair, sitting on sexually explicit emails between the lovers which could have helped Jim Lambert gain custody of his four children. Instead, a diocesan priest, Steve Leva, testified at the custody hearing describing what a wonderful daddy Fr. Verrecchia would be. Verrecchia got the wife and kids; Jim Lambert got a heart attack.
The practice under Bishop Loverde has been to cover for bad priests, just like the priest abuser he protected in Ogdensburg, Fr. Clark White. In fact, when Bishop Gerald Barbarito took over the bishop's former diocese, he removed about ten priest abusers. Faithful and orthodox priests, on the other hand, rarely experience the velvet glove and often receive draconian treatment for minor issues as the treatment of Fr. Duesterhaus, Fr. Clark, and Fr. Peffley illustrates. As an interesting side note, Bishop Loverde, while serving in Connecticut in 1991, supported two homosexual civil rights bills that allowed "gays" to adopt children and serve as foster parents.
    To sum up, many outside the diocese believe that Arlington, under Bishop Loverde, is a model of orthodoxy. No doubt that was the picture painted in Rome when the bishop presented
Words of Wisdom from St. Louis de Montfort
The most fearful enemy that God has set up against the devil is Mary….Satan fears her not only more than angels and men but in a certain sense more than God himself. This does not mean that the anger, hatred and power of God are not infinitely greater than the Blessed Virgin's….It simply means that Satan, being so proud suffers infinitely more in being vanquished and punished by a lowly and humble servant of God, for her humility humiliates him more than the power of God….The humble Mary will always triumph over Satan, the proud one.
From: True Devotion to the Blessed Virgin
his ad limina report to Pope Benedict in January. But, as everyone knows, things are not always as they seem. Orthodoxy in Arlington rests on the bedrock of faithful clergy and laity nurtured by Bishops Thomas Welsh and John Keating. The house is unlikely to fall because of that firm foundation, but it is certainly in need of renovation and conversion. One can't help but wonder what Arlington would be like today if, in 1999, Pope John Paul II had sent a fatherly bishop to teach, govern, and sanctify this unhappy diocese which has become a graveyard of vocations for so many good and faithful priests. Please pray for Bishop Loverde, our clergy, and the suffering Church in Arlington.