The Flying Buttress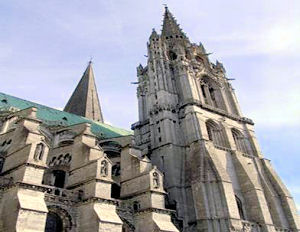 +Dissecting dissent in the Cincinnati Archdiocese+
March 12, 2006 A.D.: Safe Environment Bedtime Stories
In Recognition of the Steadfast Fidelity of Father Robert Altier,
The Silenced "Voice in the Desert"
Church of St. Agnes, Minneapolis, MN
Chapter One: Little Red Riding Hood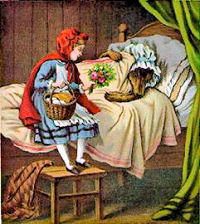 Once upon a time, there lived a little Catholic girl, the prettiest creature who ever was seen. Her mother, a Certified Safe Environment trainer, and her grandmother, a Victim Abuse Investigator, doted on her endlessly. These good women had a little red riding hood made for her, complete with a training video to illustrate its safe and proper use. It suited the girl so well that everyone called her Little Red Riding Hood.
One day, her mother, having received a shipment of training bulletins, said to Little Red Riding Hood, "Go, my dear, and see how your grandmother is doing, for I hear her plate is very full investigating incidents of abuse. Take her some of these bulletins, and this stack of background checks. And don't forget your ID card!"
Little Red Riding Hood set out immediately into the wood for grandmother's house, which was in the next village. As she was going through the wood, she met with a Virtuous Wolf, an upstanding member of the wolf community. This community, as it turns out, had recently been flourishing due to their reintroduction into the forest by safe environmentalists.
The Virtuous Wolf had a very great mind to eat her up, but he dared not, because of some Victim Abuse Investigators working nearby in the forest. Instead, he asked her politely where she was going. The poor child, who did not know that it was dangerous to stay and talk to a Virtuous Wolf, said to him, "I am going to see my grandmother to carry her these training bulletins and this stack of background checks from my mother."
The Virtuous Wolf, glancing through the training bulletins, hit upon a clever scheme. "Did you know that I am the Regional Risk Management Coordinator for safe environment programs?" he said. "As an employee of the National Prestige Retention Group, it's my job to get to your grandmother's house before you, to make sure it is safe. Where does she live?"
The innocent and unsuspecting girl pointed the way, and the Virtuous Wolf, having borrowed her ID card, ran on as fast as he could. Little Red Riding Hood waited five minutes as the wolf instructed, then continued on her way.
It was not long before the Virtuous Wolf arrived at the old woman's house. He knocked at the door: tap, tap.
"Who's there?"
"Your grandchild, Little Red Riding Hood," replied the Virtuous Wolf, counterfeiting the girl's voice. "I've brought you some training bulletins and a stack of background checks sent you by mother."
The grandmother, who was swamped with paperwork at her desk, cried out, "Swipe your ID through the card reader, and the latch will go up."
The Virtuous Wolf swiped the borrowed ID card and the door opened, and he immediately fell upon the good woman and ate her up. Then he took her clothes, put them on, and put her cap on his head. He grabbed a safe environment training manual, got into her bed and pulled the curtains shut.
In a few minutes, Little Red Riding Hood knocked at the door: tap, tap.
"Who's there?" called the Virtuous Wolf, softening his voice to sound like grandmother.
"It is your grandchild Little Red Riding Hood, who has brought you some training bulletins and a stack of background checks from mother."
"The door is open, my dear - do come in."
The Virtuous Wolf, seeing her come in, hid himself under the bedclothes and said to her, "Put those papers on my desk, and come sit on the bed beside me. I want to show you some important training pictures."
The innocent girl did as she was told. However, as the Virtuous Wolf showed her pictures about the Bathing Suit Rule, she was greatly amazed to see how her grandmother looked in her nightclothes. "Grandmother, what a big mouth you have!" she exclaimed.
"The better to talk about touching, my dear!"
"Grandmother! What big eyes you have!"
"The better to give you a detailed description of your private parts, my dear!"
"Grandmother! What big hands you have!"
"The better to grab you with, my dear!" cackled the Virtuous Wolf, as he ripped grandmother's cap off his head and exposed himself. But before he gobbled the girl up, the Virtuous Wolf, stricken perhaps with a momentary pang of conscience, asked if she had any last words.
The observant girl, looking him directly in the eye, replied, "You know, you look more like a COYOTE than a wolf to me!"
The Moral of the Story:
When it comes to most"Safe Environment" programs, every good Catholic should cry "Wolf!"
Odds and Ends
+For more information on the sordid origins of safe environment programs, click here and here.
+55 Catholic Democrats in Congress recently issued a statement about "Catholic Principles." Priests for Life has drafted a response to this, which you may read and sign here.
+The Missionaries of the Precious Blood in Dayton, OH have a small problem. It seems that one of their retired members despises the Catholic Church.
+Our Lady's Warriors has compiled extensive information on the Renew International programs (which include "Why Catholic?").

An Inquisitor's Prayer

Lord Jesus, may those who abuse and disgrace their holy offices in the Cincinnati Archdiocese step down. May the spotless name, the sacred power, and the radiant influence of the Church be restored in Cincinnati. Never let me confuse my disdain for those who dishonor their office with the office itself. If there is a better way to expose wickedness and degeneracy, have mercy upon me and open my eyes to it. In the name of the Father, and of the Son, and of the Holy Spirit. Amen.

To comment:
tomasthetorque@pngusa.net or The Flying Buttress archive
M a y t h e L o r d B l e s s Y o u a n d K e e p Y o u
Disclaimer: This publication is a work of satirical fiction, whose purpose is to hold up a mirror to the inverted and perverted absurdity of political correctness, and the casuistry of dissent. Any similarity to persons living or dead is purely coincidental, but it all depends on what you mean by the word "is." To unsubscribe, simply reply with the words "No thanks - I prefer to keep my head in the sand until the 'Spirit of Vatican II' has completely destroyed the Church" somewhere in the body of the message.